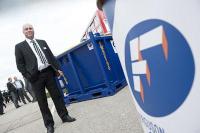 Ferguson Norge Increases NORSOK Accredited product range with its new NORSOK Workshops. Learn more at ONS2014 (Offshore Northern Seas) being held in Stavanger.
As a result of market demand for NORSOK workspace modules, Ferguson Norge, specialists in the rental of DNV 2.7-1 / EN 12079 certified offshore containers, refrigeration/freezer modules, workspace modules and accommodation solutions to the global offshore energy industry, has expanded its NORSOK accredited range to include a enhanced series of Z-015 workshops.
The range has been developed in response to customer requests for NORSOK products. The workshops have been modified to qualify for NORSOK accreditation and Ferguson Norge has already been taking orders for them. The new NORSOK workshops come in three sizes, 10 feet, 14 feet and the spacious 20 feet. They can be used for a variety of purposes, creating a safe and comfortable working environment within the harshest of climates. The units are complete with EX light and heating, EX fan and PA system. They have been fitted with a personnel door, recessed cabinet, workbench, tool board, drawer and shelves.