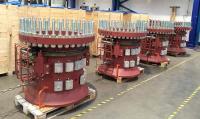 FES International, a global producer of fluid transfer solutions, has completed a quick turnaround for the delivery of equipment to the Atlanta Field of Santos Basin, Brazil, operated by Queiroz Galvão Exploração e Produção (QGEP).
The multi-million dollar contract involved the supply of nine Diverless Bend Stiffener Connectors (DBSCs) which will be used on the post-salt oil field, located 185 km off the coast of Rio de Janeiro.
The FES Diverless Bend Stiffener Connectors (DBSCs) technology has proved a big success for the firm with over 350 units supplied around the world and many more on order.
Managing director of FES International, Rob Anderson, says, "We are seeing an increasing shift towards faster turn-around requirements from clients. This contract had an extremely tight schedule and it was critical to the success of the job that we were able to meet the ambitious timescales for delivery."
"QGEP was drawn to our flexible approach from design stage to completion and our solid track record meant that they could trust that their deadline would be met. We were able to complete the quick turnaround which involved adapting our equipment to ensure it met the specific requirements for the project. Our relationship with the client was a major advantage in helping us to meet the deadline by working closely with us and getting the upfront preparation work completed quickly and thoroughly. Brazil is an exciting market with many future opportunities for us that we look forward to progressing," adds Anderson.