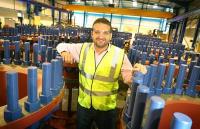 UK subsea engineering firm FES International has won a $2M contract to supply Bend Stiffener Connectors (BSCs) to oil and gas contractor Saipem.
The BSCs will be used by global energy company, Total, at its third deep offshore development off the coast of Nigeria. The field is currently under development and the production is scheduled to begin by the end of 2017.
The Egina project consists of five dynamic umbilicals and the BSCs will connect them to the Floating Production Storage and Offloading (FPSO) vessel.
FES International provides a range of BSCs to assist the installation of bend stiffeners on offshore deep sea drilling operations. Products are tailored to suit the specific and individual requirements of both the project and the end user.
Rob Anderson, managing director at FES International, said: "We have a successful track-record of working with Saipem, and are delighted to have been chosen by them once again. Repeat business like this is an affirmation of the quality of our products and services.
"We've provided fluid transfer solutions for Total projects all over the world, such as CLOV, Martin Linge and Ichthys and we're proud to be adding this one to the growing list."