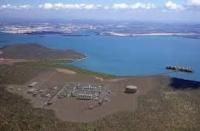 Santos GLNG has achieved another key construction milestone, with the arrival of the final two modules for the plant's LNG processing units on Curtis Island.
The two steel structures have a combined weight of more than 2,890 tonnes, and mark the completion of 15 million work hours over two and a half years to construct and deliver a total of 111 modules to the plant.
Built at Batangas in the Philippines, the modules make up the two LNG processing units - known as trains - that will convert natural gas into liquid by cooling it to -161 degrees Celsius.