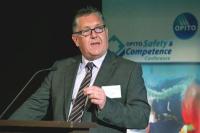 After much deliberation following the highest ever level of entries, OPITO has announced the finalists for the 2014 global safety and competency awards.
Shell Malaysia Exploration & Production, Stork and Shell Philippines Exploration BV have been short-listed in the employers' category which recognises employers who have best demonstrated their commitment to building a safe and competent workforce.
M&O Indonesia, Wild Geese Solutions and Falck Prime Atlantic Nigeria are the finalists in the category for training providers which recognises commitment to developing the skills of their staff to deliver OPITO training.