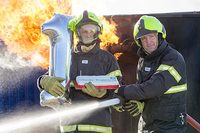 Maritime and offshore training specialists Clyde Training Solutions are celebrating welcoming more than 6,000 delegates to their state-of-the-art facility, over the first 12 months of operation.
The training campus, which is the first of its kind in central and southern Scotland, has attracted international clients as well as those from across the UK, to complete mandatory and industry enhancing safety training courses.
From workers in the marine and offshore industries, to bespoke training sessions for Scottish Air Ambulance Service crews, the first year at Clyde Training Solutions has been a huge success.
Director Colin McMurray, says, "To break the 6,000 delegate barrier in the first year is a great achievement, and about 20% more than expected. We have a world-class facility and our convenient central location, as well as being close to the Glasgow Airport, is proving attractive to a great variety of people. It's also been pleasing to see our facilities accessed not just by workers from the maritime and offshore industries, but also the emergency services and even from the world of sport."
"We are looking forward to capitalising on a great start and seeing more and more clients choose to use our facilities because of our location and facilities but also recognition of the quality provided by our full-time instructors. Our trainers have worked in the same environments as the delegates and as a result are able to create courses from scratch to the very highest standards and carry this all the way through to day-to-day training of delegates," McMurray adds.
The training campus, located alongside the River Clyde close to the former site of the world renowned John Brown Shipyard, houses multiple classrooms, a training pool, HUET (Helicopter Underwater Escape Training module) and full fire training ground complete with stack and helideck.
Build engineers from BAE systems preparing to put GBP 3 billion aircraft carrier HMS Queen Elizabeth through her sea trials, were amongst the first to visit the Clydebank site for Personal Survival Techniques (PST) training.
In addition, helicopter and aeroplane technical crew members from the Scottish Air Ambulance Service underwent both pool-based survival training and basic fire-fighting during their visit.
Clyde Training Solutions also hosted former British powerboat champions, father and daughter team Davie and Ashleigh Finlayson, to help them get up to speed with underwater survival techniques
Gareth Mathias, CTS General Manager says, "The versatility and the quality of our facility are stand out attractions, demonstrated in the many positive reviews we have received from delegates on Facebook, as well as ISO accreditation from Bureau Veritas. We've built strong relationships with industry, such as BAE systems with over 400 staff visiting our centre this year, and we will continue to develop to build and develop these relationships. The campus has proved popular with both companies and self-funded offshore workers from the central belt who appreciate the money and time that can be saved by coming to CTS, but also the emphasis on quality both in terms of staff and systems in place. We are pleased with what we have achieved so far and look forward to the future."