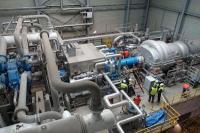 For MAN Diesel & Turbo, the commissioning of the first AR-MAX1 compressor in one of the world's most modern air separation units (ASU) currently being built by Air Products in Yulin (Shaanxi) China in April 2015 is another highlight in a success story. Air Products' ASU at the site is expected to be fully placed on-stream later this year.
One of the most challenging compressor development projects in MAN's corporate history has thus not only been realized successfully, but has now gained an important reference point. The axial compressor AR-MAX1 used as the main air compressor is already regarded as a technological milestone in the market. "Commissioning of the first AR-MAX1 for our new facility in Yulin was very successful," said Mark Begg, Asia Operations Director Industrial Gases at Air Products.
"We look forward to similar success with the additional AR-MAX1 units as we progress to bringing our ASU fully on-stream in the coming months. We are pleased with our working relationship with MAN and look forward to the contribution their technology will provide to our facility when complete." Shortly after the final sales release of the AR-MAX1, at the beginning of 2012, Air Products, the US-based global industrial gas company, ordered four AIRMAX S trains.