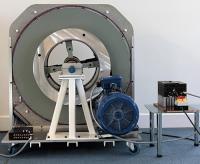 One of the most exciting projects breaking new ground in cost-cutting and greater efficiency in offshore wind has won the first award from a new GBP 6 million grant fund.
GreenSpur Renewables has been awarded GBP 50,000 from the SCORE fund to fuel its vision to have its low cost direct drive permanent magnet generator (DD-PMG) in test at the 10-MW plus level by the early 2020s.
The fund's first grant panel meeting at renewables hub OrbisEnergy in Lowestoft was so impressed with the progress of the company's "USP" – using ferrites to create the magnetic field instead of expensive rare earth sources currently used – it awarded it the largest grant.
Ferrites are abundant, accessible and cheap to source, promising huge savings for the sector. Using ferrites could also eliminate the industry-wide reliance on Neodymium Iron Boron (NdFeB), the scarce and expensive rare magnet used in existing generator designs.
The cash injection will now allow GreenSpur to build a 50-kW generator, 25 times bigger than its original 2-KW prototype, created two years ago with the help of an earlier SCORE grant. It plans to have completed its 50-kW generator by early 2017.
The company then plans to focus on fast-tracking its development to reach the 1-MW level. This is seen by the industry as a key stepping stone to much larger units in the 6-MW to 15-MW range, which GreenSpur plans to have available from the early 2020s onwards.
Andrew Hine, co-director of the Southend-based company, says, "We are delighted to have been awarded the new SCORE grant, which will enable us to demonstrate the scaling potential of our technology. We are now building a 50-kW unit and leveraging the knowledge gained from our 2-kW prototype unit. Going from 2 kW to 1 MW without any steps in between is not practical. Starting at the 50-kW level is a sensible step. It will help us de-risk future scaling initiatives."
His co-director and inventor of the technology, Hugh-Peter Kelly, is a recognised international expert in electro-magnetic design, who has had over 70 patents granted in international markets. They informed the panel that their DD-PMG will provide a cost effective solution for developers seeking to upscale output and accelerate growth.
GreenSpur are now actively engaging with the market with the objective of establishing a formal development partnership to take the technology to the multi-MW levels.
Rob Bush, SCORE project manager, says the Green Spur project was one of the most exciting "game changers" in current offshore wind research: "Using ferrites would have a huge impact on the cost of offshore wind and the research in this project is unique. The panel was so impressed with the research so far and the potential is immense. It was a unanimous decision for GreenSpur to have the first award of the maximum SCORE grant of GBP 50,000."
SCORE (Supply Chain innovation for Offshore Renewable Energy) offers grants of up to GBP 50,000 to help companies across England to develop new products, processes and ideas – from patenting a product to exploring concepts that offer new ways of solving problems and driving efficiency in offshore renewables.
Grants are available for up to 40% of eligible costs or GBP 50,000, whichever is the lower, with a minimum grant of GBP 2,500.
Companies can also access up to 12hrs of subsidised business support from Nwes to help grow and develop their business.
GreenSpur's first SCORE grant two years ago was for a proof of concept project, Mr Hine says. "It enabled us to conduct fundamental research on the design concept, which led to the construction of our prototype."
Using ferrites as an alternative to NdFeB promised huge savings. Security of NdFeB is a major risk issue. Almost 95% of global rare earth market production originates from China and is in high demand from other powerful industries, including defence, aerospace, electrical vehicles, medical, computing and mobile phones.
GreenSpur's objective at the outset was to research, design and build a direct drive permanent magnet generator that could deliver comparable output at a comparable weight to existing DD-PMGs.
Mr Kelly says, "I was convinced that if we could accomplish this that we would be able to deliver significant cost savings. We have achieved our initial objective and have confirmed that ferrite magnets now provide a viable alternative for direct drive permanent magnet generators!"
"Our generator has been designed for low cost, high volume manufacture and will be brought to market via strategic relationships with global manufacturing and supply chain partners."
Winning a SCORE grant encourages the confidence of private investors, Mr Hine says.
"Investors are not short of people approaching them with great ideas. You have to make your proposition attractive and where technology is involved some sort of industry endorsement is invaluable. We had some private investors interested in our technology, but things changed for the better when we obtained our original SCORE grant. It enabled us to close our first funding round."
"The message to small companies is that by utilising SCORE and the support of OrbisEnergy you make yourself an attractive investment proposition to the business angel and seed investor communities. As an SME trying to bring an innovation to market this financial and practical support is invaluable. Without it I doubt that we would have been able to get our project started."