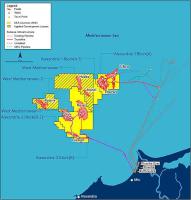 Production from the offshore WND gas fields commenced on 24 March 2017 from the first two fields, Taurus and Libra. Nine wells have now been commissioned and the fields are currently producing at a flow rate of more than 700 million cubic feet of gas per day.
"West Nile Delta is the largest new gas project that has been brought into production in Egypt in the last years. Its gas will contribute materially to the energy balance in the country. It is also one of the largest investment projects within DEA's portfolio and we are pleased that the first gas milestone has been reached," says Thomas Rappuhn, Chief Executive Officer of DEA Deutsche Erdoel AG.
"DEA was already involved in this project in its exploration phase and I would like to thank the team for the successful and professional implementation of the first part of the project," Thomas Rappuhn adds.
"DEA is proud of being an active partner in this project. All members of the project team, within BP as the operator and DEA, have done an excellent job in order to achieve the production launch," says Thomas Radwitz, General Manager of DEA Egypt.
"We are pleased to be able to start up production from this complex project just a bit more than two years since the final agreements for development were signed. Due to efficient project management, the team was able to deliver below budget and ahead of the original start-up schedule," underlines Thomas Radwitz
DEA has a 17.25% working interest in North Alexandria and West Mediterranean Deep Water concessions with BP being the operator and owner of the remaining share.
Bob Dudley, BP group chief executive, says, "West Nile Delta is a strategic national project that will add significant gas production to the Egyptian market and is another example of BP's commitment to Egypt. Our continuing investments in the country, including West Nile Delta, Atoll and our recent investment in Zohr, are laying the foundations for growth for BP in Egypt well into the future."
"It is also another important step in BP's growing production from high-quality new projects – in total, the West Nile Delta project will account for around a quarter of the new production we expect by 2020. Coupled with the series of important agreements that BP has recently made around the world, the continuing start-ups of these projects demonstrate momentum and a return to growth across BP," adds Dudley.
Commenting on the project, Hesham Mekawi, BP North Africa regional president says, "We are proud to announce the early start-up of West Nile Delta as it demonstrates BP's ongoing commitment to help meet Egypt's growth in local energy demand with the Ministry of Petroleum and our partners. West Nile Delta is a key part of BP's growth strategy in Egypt, which is to build on our strong resource position and existing infrastructure to more than triple our current production to Egypt by 2020. Our plan is to progress our other discovered resources and to continue our exploration program and follow-on, allowing us to maintain our production to 2030 and beyond."
Mekawi adds, "Thanks to a clear focus on efficiency and capturing market deflation, this complex project has been delivered with lower capital levels compared to project sanction. We are also proudly investing in sustainable local community development projects, maximising local content and creating thousands of jobs for Egyptians."