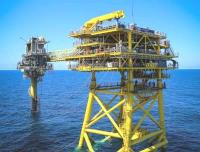 Production has started from the new unmanned platform Tyra Southeast-B, safely, on time and on budget. The platform is expected to add reserves of 50 million barrels of oil equivalent (BOE) over the next 30 years to Danish production.
"The Tyra Southeast extension is a great example of how we extract value from the Danish North Sea by combining intricate knowledge, long-term investments and the right technical capabilities. Over the next three decades, the new platform will add both oil and gas to our production. This is an important step in Maersk Oil's growth journey and it demonstrates that Denmark continues to be a core area for us," said Maersk Oil CEO Jakob Thomasen.
The drilling of the first well commenced in December 2014 from the Ensco 72 drilling rig. From this well alone the production is expected to be 2,600 boepd. The plan is to drill a total of 8-12 horizontal wells during 2015-2017 with each well being about six kilometres long.