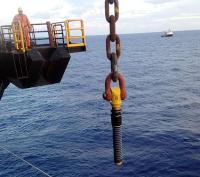 Subsea mooring specialist, First Subsea Ltd, has been awarded a contract by Shell Offshore Inc to supply Ballgrab subsea mooring line connectors for the Appomattox development. The semi-submersible four-column production platform will be moored in approximately 2,195 metres of water using 16 Series III Ballgrab subsea mooring connectors (SMCs) arranged in 4x4 clusters. The SMCs, with a MBL of 26,221kN (2,600 T), are manufactured in compliance with American Bureau of Shipping (ABS) 2009 Approval for special subsea mooring connectors.
First Subsea is the only manufacturer of offshore mooring connectors to achieve ABS design approval for the design and manufacture of large-scale R4 grade forgings over 560 mm in diameter. These are the largest diameter forgings to have received the approval, and set the benchmark for Offshore Mooring Accessories with forged bars to the requirements of "ABS Guide for Offshore Mooring Chain (2009)".
"We are delighted to have been awarded the SMC contract for the Shell Appomattox development. The Ballgrab is the connector of choice when installing mooring systems in deep and ultra deep water, with over 40 permanent moored projects to date," says Greg Campbell-Smith global business development manager, First Subsea.