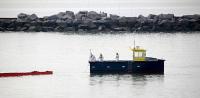 The workboat, produced by Portuguese company – SWB, Seismic Workboats, Lda – headquartered in Peniche, was designed and developed by engineering teams from Portugal, England, USA and Norway and built at Peniche Shipyard.
This is the first workboat the company has produced for oil spill response.
In October, the National Maritime Authority in Portimão, Algarve (AMN), carried out an important validation test, consisting of an exercise for oil spill response in the marine environment. This exercise allowed testing and validation of the workboat in multiple scenarios.
"It is a special workboat, equipped with a controllable pitch propeller (CPP) which allows us to achieve high-speed and also to deliver the required Bollard Pull to tow oil containment booms," says Filipe Duarte, from SWB.
The workboat was built to achieve much lower noise and vibration levels. Duarte adds, "I'd like to highlight the high stability that allows us to perform operations safely."