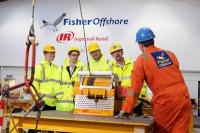 Fisher Offshore, in partnership with Ingersoll Rand, has announced it is now providing a unique introductory pneumatic winch course at its Aberdeenshire facility.
The programme aims to give offshore personnel valuable experience for working in the field, giving attendees an insight into the application, installation, testing, basic maintenance and trouble shooting of the Ingersoll Rand range of winches.
Fisher Offshore, a platinum level master distributor for Ingersoll Rand material handling equipment has developed the one day course due to an increase in demand from Aberdeen based drilling contractors who have expressed a need for their personnel to gain onshore experience handling the type of lifting equipment they will be expected to operate and maintain offshore.
The training takes place in Fisher Offshore's newly refurbished pneumatic workshop, with attendees gaining an OEM endorsed certificate on successful completion of examination.