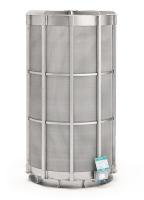 Explosion protection for gas applications can now be performed through flameless pressure relief offered by REMBE GmbH Safety + Control. ATEX certified (EN 16009) and made in Germany.
If the encounter of hazardous atmospheres with ignition sources cannot be prevented, the explosion protection remains as the only reasonable protection measure for operators. Even if this presumably only the third-best alternative, numerous applications have proven the contrary, because the prevention of explosive atmospheres as well as ignition sources is often associated with an enormous burden. This applies to the construction of the plant, as well as for the costs of the plant operation.
The original of the flameless venting devices, the Q-Rohr, is now certified for gas explosions. Originally developed for organic dusts, it is has also been approved for different types of metal dusts, dual-fuel and gas engines for some time.
In the field of gas applications, a broad range of plants in the chemical industry, as well as various test rigs have already been equipped with the Q-Rohr.
Roland Bunse, responsible for new applications and upgrading the (further) development of the Q-Rohr since the 1990s at REMBE GmbH Safety + Control, "The Q-Rohr can be used anywhere, where gas-air mixtures could enable an explosion. This is the case in many industries and factories, whereas test benches are only one example thereof. I am looking forward to the upcoming inquiries, of which there are several interesting challenges currently available with very different applications, which we can all protect with the Q-Rohr."
The Q-Rohr consists of a explosion vent with a burst indicator, as well as a stainless-steel mesh filter. In case of an explosion the explosion vent of the Q-Rohr will open, the inserted special mesh filter will efficiently cool down the flames of the explosion and reduce any escaping pressure to a safe minimum. System and environment are therefore ideally protected.