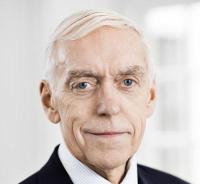 Secretary General of Danish Maritime Days and former Maersk and NOL top executive honoured with the prestigious Lifetime Achievement Award at the Lloyd's List Global Awards 2015 in London.
This Thursday, industry leaders gathered for the most esteemed awards ceremony in shipping, the Lloyd's List Global Awards, at the National Maritime Museum in Greenwich. The evening paid a tribute to this year's most outstanding achievements in the maritime industry within innovation, ship- and port operation, training, corporate social responsibility and much more. This year, the prestigious Lifetime Achievement Award goes to Flemming R. Jacobs.
The independent panel of renowned industry judges convened by Lloyd's List reasons the appointment with his involvement on some of the most significant decisions in shipping's recent history, not least being instrumental in taking the mighty Maersk into the container age just as he has personally mentored, trained, and yes inspired a generation of industry leaders over the years, first at Maersk, then at Neptune Orient Lines and through the myriad board level and advisory roles that he has held in pretty much every shipping space you care to think of.