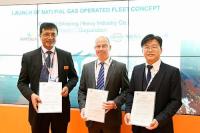 The technology group Wärtsilä and COSCO shipping Heavy Industry Co (CHI) have announced the joint development of a natural gas operating fleet concept, and this design has now obtained Lloyd's Register's (LR) Approval in Principle (AiP) certificate. The development project was carried out under the terms of a memorandum of understanding cooperation signed in June 2016 between the three companies.
The aim of the concept is to offer global operators a more efficient and economical fleet design that meets current and anticipated environmental requirements according to the classification rules. The fleet comprises four vessels; a pusher tug, LNG storage barge, LNG regasification barge, and a floating liquefaction natural gas barge. The pusher tug can be used to transport the three barges.
The concept's main advantages are its operative flexibility, and the fleet's competitive CAPEX and OPEX costs. The pusher tug makes all the units mobile and transportable. The number and choice of units will depend on the project, since not all of the concept's units are necessarily needed for every project. For example, the concept can be utilised to act as an LNG carrier (using only the pusher tug and LNG storage barge), or it can be used for more complex projects involving liquefaction and regasification systems (using all units). The modular design of Wärtsilä's liquefaction and regasification units makes this an ideal concept for gas plants in the 50-200 MW range. The low draft design also makes it very attractive for gas power plant projects in South East Asia.
The project has attained the authority of China's National Patent Office and has been conceptualised by CHI. The design and engineering development, especially in relation to the hinge joint, mooring arrangement, ship type and seakeeping analysis, has also been carried out by CHI. Wärtsilä has supported this project through its extensive experience and expertise in supplying LNG systems for the complete gas value chain. It is expected that when ordered, the fleet vessels will include Wärtsilä dual-fuel engines and steerable thrusters, the Wärtsilä LNGPac gas storage and supply system, a Wärtsilä liquefaction module, a Wärtsilä LNG cargo handling system, and a Wärtsilä regasification module.
"This is a new and innovative fleet concept that is designed to create better efficiencies for companies involved in any part of the natural gas supply chain. By combining CHI's know-how in this field with Wärtsilä' s vast technological competences, we have together taken yet another step forward in creating an optimal LNG supply chain," says Sanjay Verma, Director, Business Development, South East Asia, Wärtsilä Marine Solutions.
"We have worked together with Wärtsilä for many years in various marine and offshore projects. Wärtsilä has the technical leadership and a broad portfolio of products and solutions in LNG systems for marine applications, and is a partner that we enjoy working with. This natural gas operating fleet concept is a new and exciting development, which should bring extensive customer benefits. CHI will continue to focus on LNG related business, and extend its market influence, research and development for LNG projects," says Mr Zhao Zhijian General Manager of CHI technical R&D centre.
"LR has completed a preliminary hazard identification (HAZID) study for this innovative design. This study covered the fuel gas supply system, the transfer of LNG between the vessels, as well as the mooring arrangement of the fleet, and as a result the Approval in Principle certificate has been issued," says Ms Wei Ying, Principal Specialist & General Manager, Shanghai Technical Support Office, Lloyd's Register Marine & Offshore.