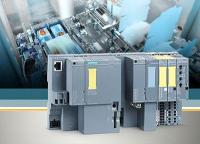 Siemens has widened the possible uses of the Simatic ET 200SP distributed controller with the three new communications processors CP 1542SP-1, CP 1543SP-1 and CP 1542SP-1 IRC. These processors give the controller an additional Industrial Ethernet interface, with which the user can implement flexible communication solutions. This simplifies the integration of series machines in IT networks. In addition, for example, outstations (RTUs) in telecontrol solutions can be connected to a control centre with little effort.
The CP 1542SP-1 enables users to give machines the same IP address by separating the networks. This enables series machines to be integrated in networks quickly and easily without making a network setting for each series machine supplied. The CP 1542SP-1 also takes over the communication functions and thus relieves the CPU of the Simatic ET 200SP. The CP 1543SP-1 also offers extended security functions, such as the encryption of all data transmitted by VPN with IPsec, and the Stateful Inspection Firewall for secure access to the Simatic ET 200SP. This makes the two communications processors especially suitable for use in machine building industry.
The CP 1542SP-1 IRC communications processor also supports the open remote-control protocols DNP3, IEC 60870-5-104 and TeleControl Basic for connecting external stations (RTUs) to a control centre. This makes the processor especially suitable for decentralised systems, such as those found in the fields of water and waste water, oil and gas, and energy management.
The functions of all three communications processors are configured in the TIA Portal with the STEP 7 Professional V14 engineering software. All CPs offer comprehensive diagnostic options – either on the device via LED displays of error messages, in the Simatic STEP 7 engineering tool, or through the web server of the ET 200SP CPU.
Simatic ET 200SP distributed controllers are especially suitable for series machine manufacture because of their compact size. They can be mounted in small control boxes directly on the machine. In networked systems, the central control cabinet of a production line is connected via Profinet/Industrial Ethernet.