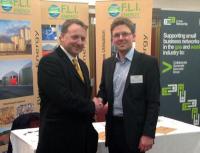 FLI Energy has begun construction of the Fraddon biogas plant, a Biomethane to Grid Anaerobic Digestion project located in Fraddon, Cornwall, UK.
FLI Energy signed the EPC contract in March 2014, with project developer Greener for Life Energy. Under the £7 million contract, FLI Energy will provide full EPC wrapped project delivery including the design, construction and commissioning of the plant. The project is funded by London based Eternity Capital.
The plant is designed to convert organic materials from local sources, including agricultural and local food waste and convert it into gas and electricity. It will also divert waste from landfill.