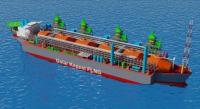 Radio Holland, member of RH Marine Group, has been awarded an FLNG project from Keppel Shipyard in Singapore. The contract encompasses an Offshore Telecommunication System package for the Golar Hilli LNG carrier, which is being converted into a Floating Liquefied Natural Gas (FLNG) unit. The contract was officially signed in Singapore following a tender procedure that started in November 2014.
René ten Brinke, CEO RH Marine Group, comments, "We are very pleased to be working on such a major contract and have been working closely with Keppel Shipyard since the bidding stage started in November 2014. Some months ago, Radio Holland Singapore also moved office to the district of Singapore where many of our maritime customers are based."
The telecom system package includes the Public Address General Alarm (PAGA), the Private Automatic Branch Exchange (PABX), CCTV and the UHF systems. The entire package will be delivered to the yard by May 2016. All the systems will be installed by the yard, Radio Holland Singapore providing the supervision of the installation and carrying out the cable plan and implementation.