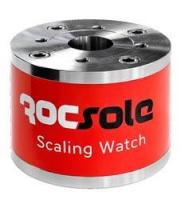 Flowrox is introducing the Flowrox Scaling Watch, a new product designed for the precise measurement of scale in pipelines and other fluid control environments.
Scaling is a common problem in the Minerals & Metallurgy, Oil & Gas, Power Plants, Pulp & Paper and Municipal Waste Water industries, where production rates can be adversely affected by the hardening of iron, salts and other minerals in pipes and valves.
The Flowrox Scaling Watch is a wafer piece of pipeline engineered for insertion between two flanges for a precise fit that allows the detection of scale, often the result of the hardened mineral deposits that can reduce the flow of fluids through a pipeline.