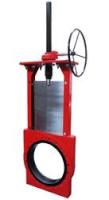 Flowrox is launching a new slurry knife gate product designed to enhance current pipeline equipment and processes using enhanced technology for fluid control.
The new SKW valve—Slurry Knife Wafer—from Flowrox was developed for use in the Oil & Gas, Mining, Minerals and Metallurgy, Power and Waste Water industries, where abrasive or corrosive slurries, powders or coarse substances are processed.
Based on three decades of experience and strong understanding of industrial fluid control, Flowrox has engineered its SKW valve at full-bore with no flow restrictions, allowing processes with abrasive or corrosive fluids—such as lime slurry or mineral slurries—to move without compromising performance.