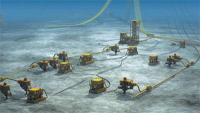 FMC Technologies, Inc. and Technip announced that Forsys Subsea, a 50/50 joint venture, has received all regulatory approvals. The parties closed the transaction making Forsys Subsea operational on June 1, 2015.
Forsys Subsea is a joint venture formed as part of a broader alliance between FMC Technologies and Technip that unites the skills and capabilities of two subsea leaders to redefine the way subsea fields are designed, delivered and maintained.
By combining the industry-leading technologies of the parent companies, Forsys Subsea will reduce the interfaces of the subsea umbilical, riser and flowline systems (SURF) and subsea production and processing systems (SPS). It will also simplify the seabed layout, thereby reducing complexity, accelerating time to first oil, and enabling higher sustainable field production. This unique combination will drive a new, step-change approach to how equipment designs and installation methods converge in a new generation of subsea architecture.