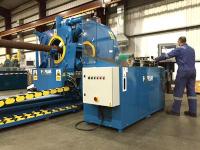 Forum Energy Technologies, Inc. says that its AMC Engineering product line has been awarded multi-million dollars worth of significant new orders within just one month.
The multiple orders are for the manufacture and supply of its industry-leading fully rotational torque (RT) bucking unit with the first delivery scheduled for Q1, 2016. They have been purchased by three of the largest multi-national oil service companies and will enable improved and increased tool make up capabilities at locations in the Middle East, South America and Caspian regions.
The RT bucking machine (RT) is a self-contained, free-standing hydraulically powered unit designed for fast and accurate make up and break out of premium and regular threaded connections for tubular equipment up to a maximum torque of 200,000 foot-pounds (ft lbs).