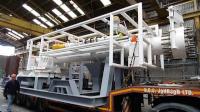 Forum Energy Technologies Inc. has successfully delivered a number of its largest subsea Pig Launchers and Receivers (PLRs) and laydown heads to a project in North Africa.
The nine PLRs have been deployed as part of a development of nine subsea wells, which vary from four to 24 inches in size, with water depths ranging from 300 to 800 metres.
Manufactured at Forum's Moffat subsea engineering business in Northumberland, UK, the custom-designed units will be used in the completion of flooding, cleaning, gauging, strength test, intelligent pigging and dewatering activities.
John Thompson, operations director at Moffat, says, "Despite the market conditions, there has been a strong and continued demand for the capabilities and expertise held in our Moffat facility. We are engineering innovative products that are benefitting clients around the globe, and this latest contract is testimony to that. The scope of work for the project, which included the full design, manufacture and testing of the PLRs, underlines the fully integrated system we can offer from concept through to delivery."
In addition to their size and weight, Forum's PLRs have other additional capabilities compared with conventional systems because they are also equipped with a remotely operated vehicle (ROV) readable subsea flow meter, a ROV operable choke valve for discharge throttling to control the pigging velocity. Forum also developed and manufactured a landing interface from the PLR's to the pipeline end terminator (PLET) with a horizontal driverless connection system.