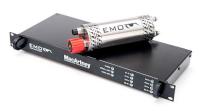 Forum Subsea Rentals, a Forum Energy Technologies business, announces that new multiplexer video and data acquisition technology is available to their global rental market following significant investment in MacArtney's EMO range.
The acquisition of DOMINO-7 Mk II and NANO-MUX multiplexers has been made in response to a growing demand for compact, lightweight designs which deliver enhanced operational efficiencies while supporting a complex array of subsea sensors.
The investment not only expands Forum's extensive range of multiplexers, it brings the newest kit - the NANO-MUX- to the global rental market for the first time.
Richard Main, Operations Manager and Global Asset Manager at Forum Subsea Rentals, says, "We have an unparalleled range of innovative technologies available for rental which were developed by Forum and other third party manufacturers which deliver results to our worldwide clients. We recognised a growing demand for rental multiplexers that can fit smaller ROVs. Both the DOMINO 7 Mk II and the new NANO-MUX offer a wide range of configurations. This latest acquisition builds on our commitment to continually bring our clients reliable, result-driven and technology-led solutions which help them meet their operational challenges."
The new compact MacArtney DOMINO-7 Mk II multiplexer (MUX) can be installed on a range of work class ROVs. A fibre-optic system with a range of MUX channel and power supply configurations, it offers three videos with 10 bit data link in addition to two multi-beam ports, so that data can be communicated via a gigabit Ethernet link coupled with a 48 VDC supply voltage. It has additional power supply channels and can be re-configured effectively and quickly whilst ensuring that it is deployable with a range of power and protocols available.
The small dimensions and low weight of the MacArtney NANO-MUX allow it to be installed on a wider range of ROVs. Video and data can be converted to fibre including HD video formats as well as high speed gigabit Ethernet data. Applications include control of a camera's pan-and-tilt utility as well as zoom and other lens control functions. The additional serial channels can also be used to transmit other sensor data within one single fibre optic signal.