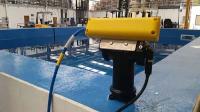 Subsea technology provider Forum Energy Technologies (UK) Limited has unveiled a deep water test facility and received industry accreditation for the calibration laboratory at its new European Operational Centre in Aberdeen.
The indoor test tank is one of the largest in the North-east of Scotland and is dedicated to testing subsea tooling and survey sensors as well as work-class remotely operated vehicles (ROVs).
Staffed by dedicated personnel, the test tank and laboratory have a primary purpose to provide full control, certification and faster turnaround in preparing Forum's rental inventory for hire. In addition, the firm will also offer a full test and calibration service to customers.
Ian Porter, VP for Manufacturing Subsea, says, "Our continued investment in testing and calibration capabilities ensures that clients can be assured our systems have been prepared to the highest possible standards. This focus on delivering quality products means clients know they are receiving ROV systems that will perform reliably in the field and safeguard the project costs. These latest facilities have been created as part of the consolidation of Forum's Aberdeen businesses and to supplement those available in our other UK plants."
The large fresh water tank, measuring 5 metres x 6 m x 4.5 m, is fitted with overhead 10T crane, lighting, cameras and a viewing platform.
The calibration laboratory has been accredited by Valeport Ltd and conforms to traceable procedures for the recalibration of Valeport CTDs (conductivity, temperature and density) and Sound Velocity sensors and parameters fitted on current meters, tide gauges, wave recorders and loggers.
In addition, seven of Forum Subsea Rentals' (FSR) engineers have undergone extensive training at Valeport on all aspects of the calibration of CTD and Sound Velocity parameters.
Forum's test tank and lab builds on the company's industry-leading subsea facilities across the UK. The company operates one of Europe's largest hyperbaric testing vessels at Moffat, Northumbria. The service is rated to 241 bar (2400 m depth) and is 2.4m in diameter with a length of 9.7 m.
In North Yorkshire, Forum's ROV manufacturing facility has a dedicated System Integration Test (SIT) facility. This includes an 11m x 9 m x 6 m tank which is capable of fully submerging and flying multiple ROV systems or complete trenchers.
All Forum UK's facilities are accredited with ISO 9001 and are available for hire along with the technical support required to operate them.