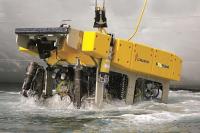 Forum Energy Technologies, Inc. has won an order to supply the University of Limerick with a Remotely Operated Vehicle (ROV) to support its subsea inspection and intervention work on renewable energy infrastructure.
The University's Mobile and Marine Robotics Research Centre (MMRRC) has purchased the Sub-Atlantic™ Comanche 2,000 metre Observation Class ROV and associated launch and recovery system for delivery in March 2017 under a MaREI Science Foundation Ireland infrastructure grant (15/RI/3232).
The Comanche was selected due to its high thrust to drag ratio enabling it to operate in strong waves, currents and winds – typical conditions for the offshore renewables industry. The system will be equipped to a high specification with precision positioning and navigation systems, camera and lighting systems and sonars.
Dan Toal, Director MMRRC, University of Limerick says, "To aid research, development and roll out marine renewable energy, it is vital that we can operate in the high energy wave, wind and tidal regimes of target sites and understand the environment from an operational capability. Wind, waves and currents can make it an extremely difficult environment for humans to operate in, so it is necessary for us to use advanced subsea robotic systems and vehicles which are capable of operating in the harshest of underwater conditions."
"Forum's Sub-Atlantic Comanche ROV is designed and proven to work effectively in strong wind and current regimes. Coupled together with University of Limerick's OceanRINGS autopilot systems we believe a blended auto-control approach can push the capabilities of current underwater platforms, reducing the dependence on the few in number most experienced pilots, extending operational weather windows and allowing us to get to infrastructure that otherwise we would have no way of inspecting, repairing and maintaining. This vehicle is based on years of research and development and will help us in our work to improve renewable technologies and learn how to make effective use of our oceans resources," adds Toal.
The vehicle will be housed at Limerick Docks where experimentation, testing and demonstration will be carried out. It will also be mobilised on vessels at other ports in Ireland, for offshore work at wind, tidal and wave energy test sites and farms.
Kevin Taylor, Vice President for Subsea Vehicles at Forum says, "It is a pleasure to be supplying one of our vehicles to support the University of Limerick with their pioneering research in marine and renewable energy. Our Comanche ROV is an extremely powerful unit for its type, and its ability to house components makes it ideal for this type of work."