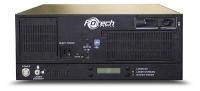 Fotech Solutions has closed a strategic investment deal with BP Ventures. The long term equity investment will see Fotech and BP Ventures collaborate to develop downhole oilfield applications for Fotech's innovative Helios Distributed Acoustic Sensing (DAS) technology.
The investment from BP Ventures will be used to evolve Fotech's Helios DAS system to help well engineers to acoustically "visualize" and record what is happening downhole in real-time with greater clarity. This will enable engineers to focus their time and effort on value-adding activity and ultimately increasing recovery and enhancing production.
Helios DAS from Fotech converts an optical fibre, up to 40km long, into tens of thousands of individual and real-time vibration sensors. Real-time detection of the vibrations caused by acoustic disturbance at each point along the fibre can provide data and interpretative tools that have not been possible until now to improve the efficiency of oil and gas exploration, production and delivery.
Chris Shannon, CEO of Fotech, commented: "Downhole applications for DAS technology are still in their infancy and are currently largely scientific tools that do not provide understandable actionable information in real time for operators. We are focusing our R&D on ensuring that we can deliver a product that gives end users real world benefits. The investment is crucial to our development work as the team at BP Ventures brings vital end user focus and insight."