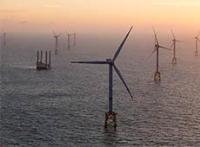 In 2013 FoundOcean played a key role in numerous foundation installations within the renewables industry.
Contracted to Offshore Wind Force (OWF), FoundOcean completed grouting operations at the West of Duddon Sands 108-monopile wind farm. The DONG Energy project took just 5 months to complete, averaging 21 foundation installations per month. Once fully operational, the wind farm will produce enough energy to power over 300,000 UK households.
The Grouting operations took place using the new range of super-fast Pan Mixers which are unique to FoundOcean, providing delivery rates of ultra-high strength grouts up to 12m3 per hour – more than double the current industry standard.