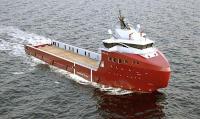 PARAT Halvorsen AS has during the last month collected four new boiler plant orders from the Vard Group and their multi purpose platform ships of Vard 1 08 design. Part of and included in PARAT's scope of supply will be combined electric steam & hot water boilers with capacity each of 1250kW.
In normal operation, the boiler is a part of the hot water and heat recovery loop and supplies necessary additional heat to the HVAC, sanitary and tank heating systems on board. If an oil spill disaster should occur, the boiler will be re-mobilized to run as a steam boiler. The steam is used to maintain viscosity in the recovered crude oil emulsion in the ORO storage tanks, complete in accordance with the NOFO requirements.
The vessels are multifunctional PSV's of VARD 1 08 design with a total length of 81 meters, beam of 18 meters and a cargo deck area of 830 m2. The vessels will be prepared for standby, rescue, fire fighting and oil recovery operations. Two of the ships will be built and are scheduled from Vard Vung Tau in Vietnam in 2015 & 2016 for the ship owner E. R. Offshore. The other two ships will be built at Vard Aukra shipyard for the ship owner Nordic American Offshore and both ships are scheduled for delivery in 2015.