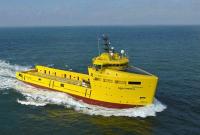 Damen Shipyards Group has recently delivered the fourth Platform Supply Vessel in a series of six to World Wide Supply of Norway.
World Emerald is a Damen PSV 3300 CD. The first ship, World Diamond, was delivered in July. The fifth PSV 'World Opel', will be handed over in a few weeks and the last in the series 'World Sapphire' is due to be delivered mid-December.
Meeting future demand
Delivery of the new design involved extensive CAD/CAM modelling by Damen Shipyards Gorinchem in the Netherlands and model testing at Maritime Research Institute Netherlands (MARIN). The 3300 is part of an entire new range of Damen PSVs. With an 80.1m length, the PSV 3300 has a deck load of 1,500 tonnes. The new type can be used to transport crew and equipment to and from offshore platforms but it also offers fire-fighting and oil pollution recovery capability. Equipped with azimuth thrusters and dynamic positioning (DP2), the design is distinguished by slender hull lines to meet challenging conditions, minimise fuel consumption and to enhance crew comfort.