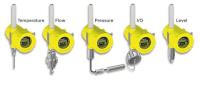 Schneider Electric has launched the new Foxboro® AccutechTM line of wireless field instrumentation, including a wide range of self-powered measurement and control devices that communicate wirelessly with a centralised gateway. The Accutech line is ideal for cost-effective monitoring of processes in remote locations and specifically in applications where wiring is prohibitive, power is not available, and the environment is demanding.
"Our Accutech line was developed to make it easier for companies to reliably collect process data that until now has been too difficult or expensive to obtain due to challenges with distance, the environment, and the absence of power," says Stephen Goodman, Accutech product manager at Foxboro. "Accutech instruments are easy to use, fast to connect and network, and ruggedised for extended service even in the toughest environments."
Within the local instrument networks, Accutech field devices can transmit signals up to 3,000 feet (approximately 1,000 metres), and can connect, configure, and communicate quickly using a 900 MHz or 2.4 GHz license-free spectrum. For instrument networks spanning larger areas, Accutech instruments can be optionally equipped with extended-reach Trio data radios that support 256-bit AES-data encryption.
A single Accutech base radio can report data from a local network of up to 100 field instruments. Once in place and powered up, push-button configuration and link-testing features enable the base radio to establish network connectivity with powered instruments quickly. Up to 256 base radios can coexist for maximum scalability.
The Accutech instrument line includes a complete range of devices for level, flow, pressure, temperature, and control applications. Each Accutech field instrument incorporates proven Foxboro technology and is built for durability and long-term operation in hostile environments, with NEMA4X packaging and CSA Class 1, Div 1, and ATEX/IECEx (-ai and –d) certifications. All Accutech field units are equipped with field-replaceable, lithium-thionyl batteries that offer up to 10 years of service.