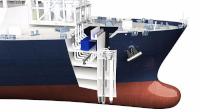 Framo has won the contract to deliver pump systems (Sea Water Lift Pumps) for a potential Floating Storage Regasification Unit (FSRU) for the shipowner GasLog at Samsung Heavy Industries.
The order was placed shortly after Framo signed a supply agreement for similar pump systems for an FSRUs under construction at the same Korean yard for shipowner Høegh LNG.
"This represents acknowledgement of our ultra-compact pump concept that is now gaining a solid position on the FSRU market," confirms Thorbjørn Vågenes, Director Oil and Gas pumping systems in Framo.
The pump systems are based on thoroughly tested and recognised Framo technology. In comparison with conventional pump systems, Framo's pumps provide significant savings on space and eliminate the need for a separate pump room onboard the ship. Delivery is scheduled for August 2018.