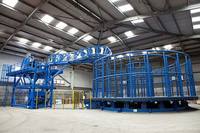 A North East global supplier of fabrication and engineering services has successfully fabricated and installed – in only 11 weeks – a 700-tonne carousel which will be used for the storage of spare cables for UK offshore windfarm projects.
Stockton-based Francis Brown was commissioned to fabricate and site install the 700-te carousel to the project base in Sunderland, by Ecosse Subsea Systems on behalf of an international infrastructure group.
With the ability to upgrade from a 700-te to 1,700-te capacity, the carousel comprises a number of key items and sub-assemblies including; basket and core, grillage, rollers and tracks, floor, drive system and central bush.
Speaking about the contract, Mark Roddy, Managing Director at Francis Brown, says, "We are thrilled to be part of this project and believe that it is our experience, quality, ability to hit a very tight schedule and excellent safety record that landed us this order. We pride ourselves in providing first class, robust and sustainable solutions to projects across the globe and firmly believe it is our emphasis on delivering exceptional design – coupled with our focus on safe manufacturing and installation – that makes us the supplier of choice across our industries."
"These key values are underpinned by our ability to constantly deliver on time and on specification. And, with a growing demand for storage carousels across the renewable sector, we firmly believe delivery of this project can only lead to further opportunities for us in this growing market," adds Roddy.