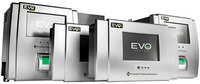 Driven by a pursuit to innovate, simplify, and better connect every station owner to their secure system data, Franklin introduces the EVQ™ 200 and EVO™ 400 to their line-up of world class Automatic Tank Gauges (ATGs). These new models feature everything customers have come to expect from Franklin's EVO™ 550 and EVO™ 5000 ATGs in packages that are right-sized for small sites and up-and-coming station networks.
A full-colour 7-inch LCD touchscreen serves up one of the most intuitive user interfaces available with simplified user features you won't find anywhere else. An icon-based user interface combined with customisable one touch buttons makes the system intuitive and easy to navigate. Choose your home screen, choose what shows up on your favourites screen and program your products colours to meet your business needs.
EVO™ Series ATGs allow you to make informed, data-driven inventory management decisions while keeping your site in compliance and protected from security threats. Launched alongside these new ATGs is the FFS PRO™ Connect web interface, which allows you to securely connect directly to your EVO™ Series ATG* from any web enabled device. It automatically scales for tablets and smart phones, meaning no app to download.
"We are excited to evolve and expand our tank gauge offering to a full EVO™ family of consoles," says Tammie Scadden, Senior Product Manager for Fuel Management Systems. "The two new tank gauges in the series will be unveiled this year at PEI and include key features & functionality of the EVO™ 550 that have set the standard in the industry. Each offering in the EVO™ Series is right-sized based on capacity, which gives our customers the option to choose the tank gauge for their specific business needs."