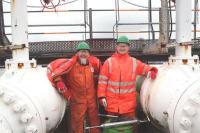 All valves at the metering station in St Fergus have been repaired without the need for a shutdown. This maintenance work was carried out in a safe and cost-effective way.
"We have thereby verified a new method for repairing valves while in service," says Trond Nordal, vice president for gas terminals at Gassco.
"A new line of products, combined with a high level of expertise with valves, was required to develop this new, effective and purposeful repair method. It definitely represents an important breakthrough."
Twelve out of the 12 valves involved were successfully repaired in just one week without any health, safety or environmental incidents.
The products used are gel-based, and spread through the lubrication channels to the entire seat and ball surfaces. Klyde Consultant, a valve maintenance and consultancy company, has been an important partner during the project.