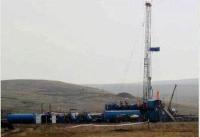 Frontera Resources Corporation updates its operational work in the Greater Black Sea region of Eastern Europe.
Increasing Gas Resource Potential: Frontera's ongoing work had assessed the gas resources associated with its ongoing exploration and production efforts at the South Kakheti Gas Complex to contain as much as 135 trillion cubic feet (3.8 trillion cubic meters) of gas in place from reservoir targets found between 300 metres and 5,000 metres in depth.
Since then, extensive integrated geologic and geophysical studies conducted by the Company have continued within the Complex.
This ongoing technical analysis has provided a more detailed understanding of an extensive integrated gas resource potential that continues to evolve as larger than previously identified in October such that as much as an additional 52.5 trillion cubic feet (1.5 trillion cubic meters) of gas in place has been added to the Company's previous estimate and is now 187 trillion cubic feet (5.31 trillion cubic meters).