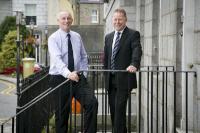 Frontier International has launched a dedicated Materials Management service in response to growing demand from clients for cost reduction initiatives.
Well known for providing personnel and associated services to the industry's major operators, the company has, until now, offered materials management services exclusively on request. To date, Frontier has undertaken three major campaigns, which have been carried out for international operators in Aberdeen.
The launch of this service to the wider market takes the current industry climate into account, allowing clients to take advantage of the cost reductions associated with materials management, including short term cash flow from disposal of surplus/obsolete inventory, reduced storage costs, re-negotiation of supplier contracts and optimum utilisation of existing inventory.
Frontier chairman, Mark Clarke explains how the expansion of this service will have a significant impact on clients: "The oil and gas sector is facing real challenges right now, so it makes sense for us to open up one of the most effective cost reduction exercises that a major operator or service company can undertake.