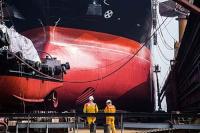 Jotun has analysed the first ever 5-year dry-docking of a vessel treated with its Hull Performance Solutions (HPS) system. The data revealed that Gearbulk's Penguin Arrow, coated with Jotun's SeaQuantum X200 in September 2010, recorded a staggering estimated fuel saving and CO2 emission reduction of USD 1.5million and 12,055 tonnes respectively, across the 60-month period.
Jotun's proprietary HPS offer combines the application of an advanced antifouling coating, a specialised application procedure, a full suite of sensors that record hull performance and a high performance guarantee. The coating limits the growth of organisms on the hull, while the sensors measure hull performance and the efficacy of Jotun's solution, providing a comprehensive insight into return on investment (ROI). Although it varies according to operational parameters, ROI is normally complete within one year of application.
According to Stein Kjolberg, Jotun's Global Sales Director HPS, the HPS system findings exceeded expectations. "As the first vessel to be coated with SeaQuantum X200, we were excited to see data on how Penguin Arrow's hull performed over five years," he says. "The results were even better than we hoped for, and we now have clear evidence that SeaQuantum X200's silyl methacrylate coating technology delivers clean hulls, saving money for owners."
Kjolberg notes that in addition to saving on fuel costs, the solution helped cut corresponding emissions. "Jotun has long argued that the right marine coatings represent one of the most cost-effective ways for owners to reduce emissions," he comments. "We expect these findings will attract significant attention not only from owners, but other industry stakeholders seeking a more sustainable industry."
Jotun met with Gearbulk regularly over the 5-year period to monitor the system and had full access to the vessel's historical performance data, stretching back to January 2000, allowing for a full comparative analysis. As a result of using HPS, speed loss was restricted to just 0.5% over the measured period which enabled the customer to achieve excellent fuel efficiency. This compares to a market average speed loss estimated at 5.9%, and a historical speed loss of 6.4% for Penguin Arrow itself.
Penguin Arrow's dry-docking was completed in November last year. Despite undergoing less operational activity than expected and at lower speeds – conditions that would usually encourage fouling – the HPS system exceeded expectations. The initial visual inspection of the vessel's hull showed it to be completely fouling free aside from the usual areas of mechanical damage.
Kjolberg notes that Jotun's confidence in the system, backed by the HPS guarantee (which covers periods between dry dockings), was never in question. "Since its launch in 2011, about 400 vessels have been coated with SeaQuantum X200, and the feedback has been very positive," he says. "But now that we have five years of data from Penguin Arrow, we can make a stronger case to other owners that the system works."