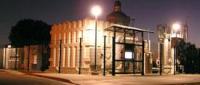 FuelCell Energy Solutions GmbH, a provider of ultra-clean, efficient and reliable fuel cell power plants, announced the delivery of its first German manufactured fuel cell power plant to the Federal Ministry of Education and Research (BMBF) office complex that is being constructed by BAM Deutschland AG in Berlin, Germany.
A delivery ceremony is being held at the BMBF construction site at 10 am Central European Summer Time (CEST) on October 8. FuelCell Energy Solutions is managing the installation of the power plant and commissioning is expected in mid-2014 once construction of the office complex nears completion.
"Our customers purchase fuel cell power plants to solve their power generation challenges and meet their sustainability goals," said Chip Bottone, President and Chief Executive Officer FuelCell Energy, Inc. and Managing Director, FuelCell Energy Solutions GmbH. "We are excited to demonstrate to the marketplace the many attributes of ultra-clean, efficient and reliable power generation from stationary fuel cell power plants made right here in Germany."