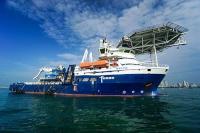 Fugro has secured its continued utilisation of high performance offshore IRM vessel, REM Etive, and has finalised a purchase agreement at conditions significantly more beneficial than a renewed charter agreement, with owner Solstad. The move supports a portfolio of IRM contracts being executed by Fugro in the Asia Pacific region and is expected to strengthen the company's position in relation to future subsea inspection business in the area.
Suited to a wide range of offshore operations, REM Etive has been operating in Southeast Asian waters for Fugro under a charter agreement since 2007 and is mobilised with a comprehensive range of Fugro equipment for specialised subsea inspection and field support projects. Retaining the benefits of the vessel's assured performance and notable versatility will result in seamless project execution and provide the continuity that is essential in operational management.
"We are excited to secure the REM Etive and to continue her deployment for our clients in the APAC region," says Mark Heine, Divisional Director Marine and member of Fugro's Board of Management. "With three multi-year IRM contracts already in place, two of which were awarded in recent weeks, this vessel is the best fit with our fleet to enable us to continue our delivery excellence and efficient performance in subsea IRM projects."
REM Etive is a field-proven design and has recorded many hours of safe operation with very high up time in a wide range of weather conditions. The 93-metre vessel is a significant element in the delivery of services from Fugro's marine asset integrity business line. Together with Fugro's highly experienced personnel, she is capable of supporting a comprehensive range of services throughout the lifecycle of a subsea development.