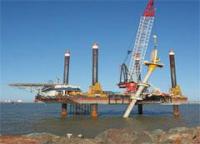 Fugro's continued expansion in Africa was marked with the recent establishment of Fugro Ghana Limited in Accra. This new base provides access to Fugro's comprehensive range of services and will support the promising market for oil and gas projects for its clients in the processes of exploration, construction and field development in Ghana.
Demonstrating its commitment to the Ghanaian market, as well as the implementation of the Local Content legislation, Fugro has established a partnership with Lima Oil Services Ltd in Accra. The partnership also ensures that Fugro is ready to comply when the Local Content Policy is extended to other market sectors, including mining, energy and infrastructure, as expected.
Kelvin Abdallah, Director of Fugro Ghana Limited stated, 'I am proud to be part of the process of integrating Fugro's experience and knowledge into the Ghanaian community. Our country is full of opportunities and the group's extensive expertise and state-of-the-art technology mean we are best placed to maximise them.