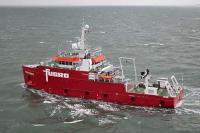 Fugro has been awarded a joint contract with Boskalis for survey and identification of unexploded ordnance (UXO) in the Borssele Wind Farm Zone. The multimillion-Euro contract, for Dutch transmission systems operator TenneT TSO B.V., includes specialised survey and identification work in relation to cable routes for the planned grid connection between TenneT's two offshore platforms and its high-voltage substation onshore.
"Our project team will deliver a strong and reliable turnkey UXO identification solution," says Gertjan Paff, Fugro's Regional Project Director for Europe. "By integrating vessels and innovative systems developed in-house, we have successfully executed similar marine site characterisation projects in recent years."
The new award follows a number of contracts undertaken by Fugro at the Borssele offshore wind farm site since early 2015, where workscopes have included geophysical surveys, geotechnical site investigations, integrated geological modelling and measuring meteorological and oceanographic conditions. The new UXO survey contract commences this summer and continues for a duration of approximately two years.