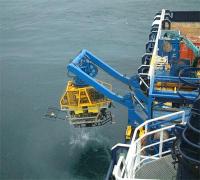 Fugro has reached agreement with The State Oil Company of the Azerbaijan Republic (SOCAR) to form a new Joint Venture for the performance of bathymetric, geophysical & geotechnical surveys, the provision of autonomous underwater vehicles (AUVs) and remotely operated vehicles (ROVs), diving services and general positioning support, both onshore and offshore, throughout the Republic of Azerbaijan.
The agreement to form SOCAR-FUGRO LLC, in which Fugro has a 49% interest and SOCAR a 51% interest, builds upon the original agreement signed in 1995 to establish Azeri-Fugro Ltd when Fugro first commenced operating in the Caspian region.
Over the last two decades Fugro has firmly established itself as the leading player in the offshore survey and geotechnical markets in Azerbaijan. In addition, Fugro provides underwater support to oil & gas companies and major EPC contractors with a modern fleet of AUVs and ROVs.