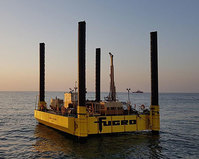 Fugro has commenced a programme of geophysical and geotechnical surveys for Artelia, Abu Dhabi as part of the Hail and Ghasha development, a landmark project by the Abu Dhabi National Oil Company (ADNOC).
Located offshore in the Arabian Gulf, the Hail and Ghasha gas development is part of ADNOC's largest sour gas field project and directly supports the company's strategy to unlock its developed sour gas reserves to ensure a sustainable and economic gas supply to the United Arab Emirates.
Fugro's ability to provide turnkey survey solutions was a key factor in the award of the contract following a highly competitive bidding process. In order to meet the fast track schedule Fugro mobilised to the Ghasha field with specialised equipment including self-elevating platforms for geotechnical work and crew accommodation. In the Hail field, an inter-tidal shoal area, it is conducting surveys with amphibious buggies while in deeper water, marine geophysical and bathymetric surveys are being performed using its state-of-the-art survey vessel, Fugro Proteus.
"We're meeting the requirements of this key project with our expertise in both geotechnical site investigation and marine survey," explains Chris Arnott, Fugro's Project Delivery Manager. "The geotechnical workscope includes boreholes, grab samples, vibrocores, cone penetration tests, pressure meters and down hole seismic." Bathymetric, multibeam echo sounder, tide gauges, ultra high resolution seismic sub-bottom profiling, magnetometer and side scan sonar make up the geophysical survey activities at the site.
Louis Burnard, Fugro's Country Manager, UAE adds, "Our involvement in this strategic project for the United Arab Emirates further strengthens Fugro's relationship with ADNOC. It follows more than 30 years of collaboration across all of the company's subsidiary operating companies in Abu Dhabi."