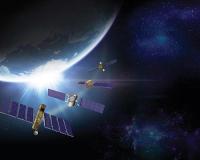 As a result of a significant Fugro technology achievement, users of its G4 satellite correction service will be among the first in the world to benefit from Galileo's much anticipated "initial services" launch.
This week Fugro further extends its technology position by taking full advantage of Galileo's operational milestone. The launch of Europe's satellite navigation system's new 'initial services' capability means that all Fugro's G4 satellite correction service users will instantly benefit from much greater accuracy and reliability.
Fugro's G4 service, launched in February 2015, was the first to utilise all available global navigation satellite systems (GNSS) – GPS, GLONASS and BeiDou. From its launch date the service was prepared for Galileo, and Fugro's G4 users now have access to almost 80 satellites from the four GNSS systems – a significant advantage when line-of-sight to certain satellites is obstructed by offshore structures.
Anders Haneborg, Fugro's Commercial Manager says, "Fugro has an enviable track record when it comes to delivering the benefits of innovative global navigation systems. Crucially, we were the first to use all of the existing global navigation systems when we launched our G4 satellite correction service in February 2015. Now G4 service users will be among the first to benefit from the 11 additional satellites available via Galileo's initial services operations."
Typically this equates to three or four more satellites at any point on earth at any time, which will greatly improve the accuracy and reliability of Fugro's G4 positioning services. "This is a key consideration for our customers during critical positioning operations," continued Anders. "More satellites in orbit means more are visible above the horizon and more signals can be compared, more quickly, giving a more precise location."
Fugro's G4 augmentation signals are transmitted via seven high-powered communication satellites, to provide at least two independent broadcast channels anywhere in the world. Customers will be among the first in the world to benefit from the launch of the new Galileo Initial Services. Fugro was the first to market with G2 (the US's GPS and Russia's GLONASS systems) in 2009, and then first to add the Chinese BeiDou system in 2015.