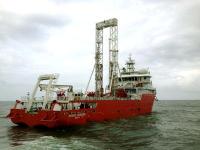 Fugro Voyager, a purpose built DP2 geotechnical drilling vessel, is entering service with Fugro's Offshore Geotechnical Division to expand its operations in the frontier areas of the Asia Pacific region. Specifically designed and built to address the varied demands of the region's deepwater markets, the new vessel has several features which will enhance overall productivity.
At 83 metres by 20 metres, with a twin tower drilling derrick over a centrally located moon pool, the vessel has automated pipe and tool handling equipment to promote safe drilling floor operations. Equipment includes both downhole and seabed sampling and testing systems rated for 3,000 metres water depth.
Fugro Voyager is equipped with a dynamic positioning station-holding capability (DP 2) and is built to Comfort Class COMF-V(3) standards with quarters for up to 60 persons that are outfitted to the highest standards. A large soil laboratory is centrally located next to the drill floor giving a unique open-plan working environment for the geotechnicians. Other areas in the vessel include client offices, a conference room, day rooms and a gymnasium.