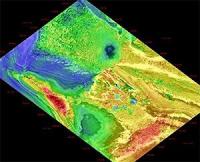 Over recent years, Full Waveform Inversion (FWI) has become a widely adopted seismic technique. It has evolved from a specialist tool to one with applications in many different scenarios and environments.
CGG has been at the forefront of this evolution, developing FWI from an academic research application into a mainstream production product. FWI is now an important component of the velocity model building toolset.
FWI velocity models contain stunning detail and resolution, as seen within this depth slice from a broadband marine survey acquired using BroadSeisTM, offshore Angola.
FWI uses every aspect of the recorded seismic, including parts which are often removed during conventional seismic processing, so the input data is generally kept as raw as possible.