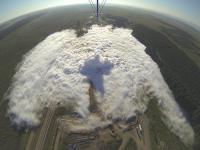 CO2 pipeline efficiency and safety are critical to the rollout and scaling up of CCS solutions, which are needed to meet the Paris Agreement greenhouse gas reduction targets. The Norwegian CLIMIT Programme and Australian Department of Industry, Innovation and Science have awarded DNV GL and Energy Pipelines CRC (EPCRC) just over NOK 40 million for a test programme for CO2 pipelines involving large scale testing at DNV GL's Spadeadam test site in the UK.
Pipelines are the most common way of transporting large quantities of CO2 in CCS projects, but the cost can be significant due to the quantity of material. In the absence of accurate fracture models, CO2 pipelines must be either designed and constructed conservatively or subjected to full-scale propagating tests. Accurate modelling of CO2 dispersion to identify the hazards posed by small releases or a major leakage contributes to safe designs as well as better permitting processes and community consultation activities.
In order to reduce the future cost of CO2 pipelines while ensuring the required safety level, DNV GL and EPCRC are cooperating to advance optimal pipeline design through new simulation models and full-scale fracture tests. The Norwegian CLIMIT Programme and Australian Department of Industry, Innovation and Science are each providing funding of NOK 20.8 million for this test programme running from 3Q 2016 to 1Q 2019.
The test programme 'Improving the safety and efficiency of CO2 pipelines by developing and validating predictive models for CO2 pipeline design' is unique as it connects the Norwegian and Australian support schemes for funding R&D in the CCS value chain in a joint effort to address an issue that is important for the efficient and safe transportation of CO2 .
DNV GL and EPCRC will make the results available to the wider CCS market by updating the standards 'DNV-RP-J202 Design and Operation of CO2 Pipelines' and 'DNV-OS-F101 Submarine Pipeline Systems' as well as by improving software. The test programme will address the existing knowledge gaps in the fracture control of high pressure pipelines by conducting large-scale fracture-propagation testing of dense-phase CO2 pipelines at DNV GL's Spadeadam test site in the UK.
Both EPCRC and DNV GL have carried out extensive work on running fractures in pipelines. EPCRC has a model for predicting running fractures in gas pipelines and will use the test results to validate this model for CO2 transport. DNV GL has experience of designing and implementing complex test programmes as well as a long track record with CO2 pipelines for major joint industry projects such as CO2 PIPETRANS and SARCO2B.
"Innovation and science are crucial for technology development and the implementation of best practices for CO2 management. Through this joint test programme, we can achieve much more than if we worked separately," says project manager Valerie Linton from EPCRC. "The test results and simulations will contribute to the faster and cheaper introduction of CO2 transport. This will be an important step to accelerate the full deployment of CCS," adds project manager Bente Leinum from DNV GL- Oil & Gas.
CO2 pipelines risk running fractures due to phase changes during decompression. This test programme will complete two full-scale fracture tests to validate the numerical models and will:
Develop knowledge that can contribute to CO2 pipelines being dimensioned with less uncertainty than at present, which can reduce pipeline costs.
Develop simulation models for fractures and the dispersion of emissions, which are important for safety assessments.
Develop guidelines and updates to pipeline standards for the design of CO2 pipelines, which are important to the implementation of standardised solutions for effective scaling.
Share test results globally, which is important to increase knowledge in industry and research.