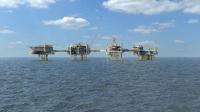 Lundin Petroleum AB has announced that Phase 1 of the Johan Sverdrup project is over halfway complete and that the partnership has further reduced the gross capital expenditure to NOK 92 billion.
Phase 1 of the Johan Sverdrup project continues to progress according to plan and is now close to 60% complete.
Due to improvements in project execution and delivery, gross Phase 1 development costs have been further reduced by NOK 5 billion to NOK 92 billion. This represents a saving of 25% compared to the original estimate in the plan for development and operation, excluding additional foreign exchange rate savings in US dollar terms.
Alex Schneiter, CEO and President of Lundin Petroleum comments, "The world-class Johan Sverdrup project is progressing really well and continues to get better and better. It is very encouraging to see that we have now passed the halfway mark in Phase 1 of the project and are ahead of schedule. It has been my long held view that costs will continue to come down and today we can announce that the Johan Sverdrup partnership has managed to lower development costs even further."
The breakeven price for the full field development is estimated to less than USD 25 per barrel and the total resources in the Johan Sverdrup field are estimated to between 2.0 and 3.0 billion barrels of oil equivalent.
Phase 1 remains firmly on track for first oil in late 2019 with an estimated production capacity of 440 Mbopd. Phase 2 will add another processing platform to the field centre which is estimated to increase the processing capacity for the full field to 660 Mbopd. Phase 2 is scheduled to start production in 2022.
Lundin Norway holds a 22.6% working interest in the Johan Sverdrup project and Statoil is the operator with 40.0267%. The remaining partners are Maersk Oil with 8.44%, Petoro with 17.36% and Aker BP with 11.5733% working interest.